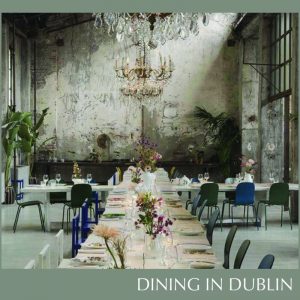 New luxury Irish events company, Ten Four and founder and editor of the recently closed premium digital publishing company, maven46, Tanya Grimson have joined forces to create a unique industry pop up dinner series with a difference. Taking place four times a year, 'A Salon With…' is an intimate dinner series focusing on the business of fashion, beauty, and creative industries.
Each dinner event will invite special guests from both Ireland and overseas in the fashion and creative industries to engage in fireside chats and informal host-led talks, while attendees will be treated to a three-course dinner created by local Irish food artisans. Each pop-up dinner will be hosted in unspoilt and unusual locations that allow the organisers to bring the space to life and to create a sense of mystery for the guests.
Organisers Grace Collins, founder of Ten Four and Tanya Grimson said "It was really important to both of us to create an industry event that focused less on the formal processes of normal business networking events but to create something unique, something luxurious that cultivated a community of like-minded people. To create an open space to learn from some of the industries most coveted professionals but also to engage in peer to peer networking in the most beautiful of ways, over fine food, fine drinks and even better company."
The inaugural event is taking place on Thursday, March 26th whereby attendees will be joined by special guest for the evening, Elizabeth Paton. Elizabeth is a journalist for the New York Times and European Correspondent for the Style Section covering fashion and luxury sectors of the region.
Elizabeth will be engaging in a fireside chat with organizer and Editor, Tanya Grimson, on the key topics in fashion that everyone is talking about. "The Role Gen Z, Luxury, and Sustainability Play in the Fashion Industry for 2020"
Tickets are limited to 50 per event and currently on sale via registration to attend on www.asalonwith.com.