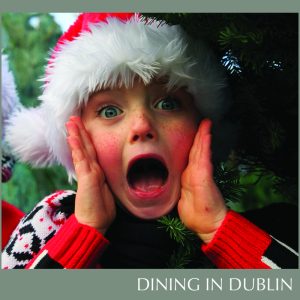 On Saturday November 30th from 4pm, the Harbour Plaza in Dún Laoghaire was all lit up with festive sparkle to celebrate the opening ceremony of the Dún Laoghaire Christmas Festival from November 30th to December 23rd.  The festival features the largest ever display of Christmas lights in Dún Laoghaire, the iconic Ferris Wheel from the movie 'Grease', a Vintage Funfair, Santa's Post Box and the very popular Christmas market with a traditional and nostalgic theme bringing the magic of Christmas and a winter wonderland for the festive season.
The festive family fun started down at the Harbour Plaza from 4pm with a DJ, a seasonal music set from Upbeat Generation, counting down to Santa's arrival at 5.30pm with Christmas carols from CÓRus Choir followed by the official switching on of the best lighting display Dún Laoghaire town has ever seen. At 5.45pm, the town was illuminated when An Cathaoirleach, Cllr Shay Brennan and Santa performed the official turning on of the Christmas lights from the Harbour Plaza. It is the biggest ever display of lights extending from People's Park all the way to the junction with York Road.
The Dún Laoghaire Christmas Market is a feast for the seasonal senses as carefully selected vendors sell authentic hand-made gifts and delicious treats every weekend from November 30th to December 23rd on the metals and opposite dlr LexIcon from 11am to 7pm on Saturdays and Sundays. Aromas of gourmet sausages, crepes, baked goods, Fresh Falafels, Hungarian Lángos and Churros, Gingerbread, German Gluhwein and steaming hot chocolate fill the air as you wander through the Christmas Market.  If you are searching for the perfect Christmas present, the market has hand-crafted gifts and decorations, jewellery, limited edition photographic prints, Hurling watches and clocks, Trendy Socks, PaperBear Greeting cards, knitwear, fragrances and hemp products for people and pets. It's a whole host of very special quality gifts and treats that are not mass-produced but hand crafted with love.
The vintage carnival is placed at Moran Park beside dlr LexIcon to compliment the traditional Dún Laoghaire Christmas Market and includes classic family attractions full of nostalgic charm such as colourful retro Hobby Horses, candyfloss, a rollercoaster, Santa's Post Box and a charming Christmas market with a traditional theme. Dún Laoghaire Town Centre has over 280 retail outlets and businesses so why not swap city centre crowds and stuffed out-of-town shopping centres to browse, shop, relax and soak up the festive spirit of this magical seaside town. The Dún Laoghaire Christmas Festival is proudly hosted by Dún Laoghaire-Rathdown County Council. See www.events.dlrcoco.ie