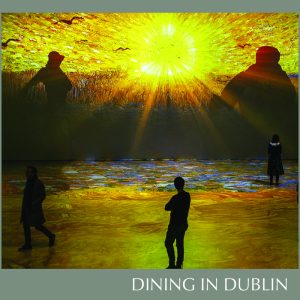 HAVE IRELAND'S MOST CULTURALLY ADVANCED COUNTIES AND SUBURBS JUST BEEN REVEALED?
With only one week left of showtime, 'Van Gogh Dublin – An Immersive Art Journey' in the RDS, reveal which Irish localities are the most interested in modern art experiences, based off data from the 75,000 attendees to date
Since opening on May 16th in the RDS to rave press reviews and huge hype nationwide, 'Van Gogh Dublin – An Immersive Art Journey', Ireland's first immersive art experience, has left Irish audiences amazed over the all-digital, hands-free, immersive exhibition. The 20,000 square-foot light and sound spectacular has since welcomed 75,000 visitors to date, and current sales estimates predict a total of 100,000 guests will have been immersed in Van Gogh's most famous works by the final showing on August 4th. The event was masterminded by Irish company Theatre of Light, who recruited multi-award-winning, renowned international creative studio Nohlab to bring their immersive visions to life. Nohlab created a unique journey whereby visitors experience audio-visual storytelling at its best while being completely submerged in Van Gogh's history and artwork in an advanced digital format. The 'art journey' actually goes beyond Van Gogh, to two other multisensory displays of digital artwork, that both challenge and amaze the mind, completing the RDS based experience. The likes of which have never been enjoyed in Ireland before.
From the 75,000 attendees that have visited Van Gogh RDS to date, we know from sales data that the number one county producing visitors is Dublin. Within Dublin, we now know our most culturally interested suburbs are:
Tallaght

Blackrock

Swords
Following the capital then, counties most interested in Van Gogh and new, modern art experiences are:
1. Cork
2. Limerick
3. Belfast
An iconic venue of scale, with strong artistic and cultural links, the RDS was one of a select few Dublin venues with sufficient infrastructure to build an immersive exhibition of this scale and technological demands. Theatre of Light Co-Founder, Daniel Gleeson states:
"The launch of Van Gogh Dublin was two years in the planning and orchestrating Ireland's largest ever Immersive art exhibition during covid presented many challenges. The team who supported Theatre of Light in bringing a show of this scale to Dublin did an exceptional job, considering most of the planning was done over Zoom calls."
"The customer feedback for the exhibition has been overwhelmingly positive. We've been lucky to have received lots of observations on what elements of the attraction visitors liked or disliked over the three months. This was always an important priority of ours. Since opening, as soon as visitors leave the exhibition hall, they have spotted and engaged with our feedback wall. We have big plans for the future, so incorporating this feedback into the design and planning of future exhibitions has always been a top priority for us."
The immersive art journey quickly became a firm Irish celebrity favourite, with stars like Donal Skehan, Rosanna Davison (who attended with her dad Chris de Burgh), presenters such as Ray D'arcy, and international music sensation James Vincent McMorrow all attending.
The visual magnificence of the journey also very quickly established it as an Influencer's ideal content creation opportunity. Top Irish social media stars such as James Kavanagh, Dominique Nugent, Conor Moore, Anouska and Holly Carpenter all attended, showing themselves surrounded by the swirling and moving art to their hundreds of thousands of followers (see much of their content reshared here).
TV Presenter and Instagram Star Glenda Gilson said of the experience:
"It was absolutely amazing! I've never seen anything like it. We had two young kids with us, and they just loved it, chasing the moving art and colours all around them and on the floor. But equally as adults we loved it from an art appreciation perspective, the way they can bring Van Gogh's works to life like this is so impressive. A brilliant family day out."
The Immersive Art Journey has only until Thursday next week (August 4th) until its run ends in the RDS. However, the Irish brothers behind the mind-bending experience have big future plans for what they have now created. Daniel Gleeson says: "From flying around the world to research other impressive immersive art journeys overseas, to employing some of the most renowned digital artists in the world to bring this to life, to finally opening in the RDS, this has been a once in a lifetime experience for us. Right now we're in that exciting phase of deciding where to open next."
If you are yet to attend 'Van Gogh – An Immersive Journey' in the RDS, you only have until Thursday, August 4th to do so. The team are running super sale offers on all of the below slots, so be sure to nab one of these discounts before they wrap up.
Discounts:
Saturday, July 23rd – 25% off tickets for the 4 pm to 9 pm shows.
Sunday, July 24th – 25% off tickets for the 4 pm to 9 pm shows.
*Sale will go live Wednesday 20th at 3 pm.
Wednesday, July 27th – 30% off tickets for the 5 pm to 7 pm shows.
*Sale will go live Friday, July 22nd at 3 pm.
Thursday, July 28th – 25% off tickets for the 3 pm to 8 pm shows.
Friday 29th to Sunday 31st – 25% off tickets for the 4 pm to 9 pm shows.
*Sale will go live Monday, July 25th at 3 pm.
Tickets are available at vangoghdublin.com. More information is available on the Van Gogh Dublin Instagram account @vangoghdublinrds.