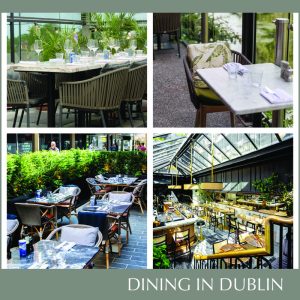 The sun is shining and there is no better place to be than on a sunny terrace enjoying a crisp glass of rosé. Here is a roundup of the best outdoor spots across the Press Up Group for dining and drinking this summer!

The Grayson  
The stunning glass roofed atrium and outdoor terrace at The Grayson provides the perfect backdrop for your summer event and BBQ and is the ideal spot for friends and family to enjoy the warmer months together.  
The Grayson serves lunch, dinner, weekend brunch and lunch, and you can expect a brilliant and friendly experience in a stunning city centre setting.  
Ashton's Gastropub 
One of the best-known local pubs on the Southside of Dublin City. An authentic atmosphere, friendly staff, and the finest terrace around overlooking the River Dodder, which has recently undergone a complete transformation following a huge refurbishment. With elegant décor, a stage for live music, comfortable booths & lounge chairs, along with one of the largest outdoor screens in Dublin, there's nowhere else quite like it on a sunny day.  
Our Head Chef, Darren McQuarrie has continued to evolve our range of dining options. From breezy long lunches to cocktail style summer BBQ's, there's something for every occasion. We also continue to serve one of Dublin's most loved carveries during the week and offer a Sunday roast that will leave no room for dessert! 
Visit ashtonsdublin.ie to book today or email events@ashtonsdublin.ie to enquire about a private summer BBQ. 
Elephant & Castle Galway  

From the cobblestones of Temple Bar to Galway's Eyre Square, the Elephant & Castle terrace area at The Dean Galway is not to be missed on your weekend trips to the West. The terrace has its own internal courtyard and full private bar facilities, making it perfect for parties, intimate gatherings or just sunny day nibbles and drinks with friends. The terrace is covered with awnings, outdoor heaters and modern lighting so you can still enjoy it despite the Irish weather.   
The menu is classic New York style dining, using the best of Irish, locally sourced ingredients. From fresh salads, gourmet burgers, delicious pastas, homemade desserts, and of course our world-famous chicken wings, there's something for everyone at Elephant & Castle Galway.  If you'd like something a bit more formal for private events and group bookings we also offer our Canape & Finger Food menus as well as our Super Bowl menu as a larger sharing option.  
You can book a table for our outdoor terrace via our website elephantandcastle.ie  
McDaniels of Brittas Bay
Located just a stone's throw from Brittas Bay in County Wicklow, McDaniel's has long been the perfect spot to grab a bite to eat or drink while brushing the sand off from your day on the shore. Mc Daniel's has been a Brittas Bay landmark destination since 1790, and with its new addition of Elephant & Castle, outdoor food trucks and bar on the terrace, and an onsite playground, it's a summer go-to for locals and beachgoers alike.  
The Brittas Bay menu features the same great dishes that make Elephant & Castle a firm favourite. From the fluffy omelettes, Caesar salads and juicy burgers, and, of course, those famous chicken wings, all washed down with a cool pint from McDaniels Pub.  
You can book a table at Elephant & Castle Brittas Bay via our website elephantandcastle.ie   
Isabelle's  
Isabelle's Restaurant & Terrace is in the heart of Dublin City Centre, just a stone's throw from the iconic Grafton Street. Nestled among the high-street shops, Isabelle's is the perfect spot for a bite to eat while shopping, catching up with friends, a night out or any celebration. Our outdoor terrace is open all year around and offers the perfect setting for enjoying the good weather in Dublin City Centre. Our terrace is also dog friendly, so make sure to bring your pooch along with you.
Isabelle's features a fresh, innovative and seasonally led food and drinks menu with a warm welcome. We serve dinner, lunch, and weekend brunch so guests can choose from pizzas, pastas or steaks on our dinner menu to pancakes, avocado toast and granola from our brunch menu.
We're delighted to host your party, event or lunch meeting in Isabelle's or on our terrace.
Angelina's 
Whether you're visiting the restaurant for a special occasion or just popping by for a casual meal on our outdoor terrace, our outdoor dining space offers amazing views of Grand Canal. Sit along the canal and enjoy the views and peaceful environment in the heart of Dublin. Our front and canal side terrace are both dog friendly, so make sure to bring your pooch along with you. 
Angelina's dishes are made with the very best local and international produce, inspired by the bold, sun-filled flavours of Italy. 
Sophie's Rooftop Restaurant in Dublin, Cork and Galway
Sophie's Rooftop Restaurant is a gorgeous glasshouse bar and restaurant perched atop The Dean, with a stunning rooftop terrace boasting unmissable 360-degree views of Dublin, Cork or Galway from cityscape to countryside, it has outlooks like no other.  
One of Dublin's original rooftop terraces, Sophie's Dublin has undergone a refurbishment to offer a fresh look just in time for summer. Drop in for some delicious food and drinks for breakfast, lunch and dinner daily with a delectable brunch menu on the weekends. 
Mackenzie's 
Located between the Grand Canal and the River Liffey, our elegant dining space has views of the grand canal and the Dublin docklands. Our large, covered terrace is ideal for after-work drinks, a meal before a show in the Bord Gais and for our famous brunch at the weekend.  
With fresh hand cut steaks, fresh ground hamburger, locally sourced market fish and fresh breads delivered daily, we are dedicated to serving you the most- fresh in season produce with every single dish. 
Layla's Rooftop Restaurant
Layla's Rooftop Restaurant Terrace offers a new perspective on Ranelagh, offering unbeatable views of the Dublin Mountains and the Ranelagh rooftops.
Our menu is inventive and created with love by our Head Chef Pietro. An Italian native, he has brought the taste of Italy to Ranelagh Layla's. Fresh, local produce is used throughout the menus, with the menu changing seasonally, with an extensive beverage list and a zero-waste cocktail menu in place. Open for breakfast, lunch and dinner seven days a week, with brunch served at the weekends.
Foxhunter 
When it comes to summer venues in South Dublin, it doesn't get much better than The Foxhunter. Summer BBQ locations can be hard to find in Lucan, but our private terrace is perfect for a sunny day. Through the double-doors from The Elm Room you'll find yourself on a sunny private outdoor terrace. When the evenings get a little longer, you can enjoy our amazing range of platters while also sunshine sipping. 
There are a wide range of platters available including some of the best burgers around from Wowburger. We also offer some scrumptious Elephant & Castle platters with something to suit every tastebud.  
Email events@foxhunter.ie to book or visit foxhunter.ie. 
Bison Bar & BBQ 
Dublin's first Bar & BBQ, and arguably still Dublin's best Bar & BBQ (we certainly think so!). Saddle on up and enjoy some of the finest BBQ food around. Our terrace area is truly unique. You might have to climb through a window to get to it .. It's cosy, always has a lovely atmosphere and offers all your BBQ favourites! 
We're proud owners of the only Southern Pride Smoker in Dublin, we use our homemade rubs to sure that they're oozing with flavour before smoking all of our meats 14 hours before serving. From a full rack of ribs to succulent brisket and sharing platters, we've got it all! 
Visit bisonbar.ie 
Ryleigh's Rooftop Steakhouse 
Take the lift to the sixth floor of The Mayson and discover Ryleigh's Rooftop Steakhouse, with a stunning outdoor terrace. Soak up the panoramic vista of the Dublin Mountains, the River Liffey, the city center and even as far as Dun Laoghaire on a clear day. We even have heaters and covers for chillier summer evenings! 
We serve Breakfast, lunch, dinner daily with brunch on the weekends, along with an extensive wine list and cocktail menu. From our succulent steaks and pasta favorites, our chefs pack every mouthful with international and Irish flavors.